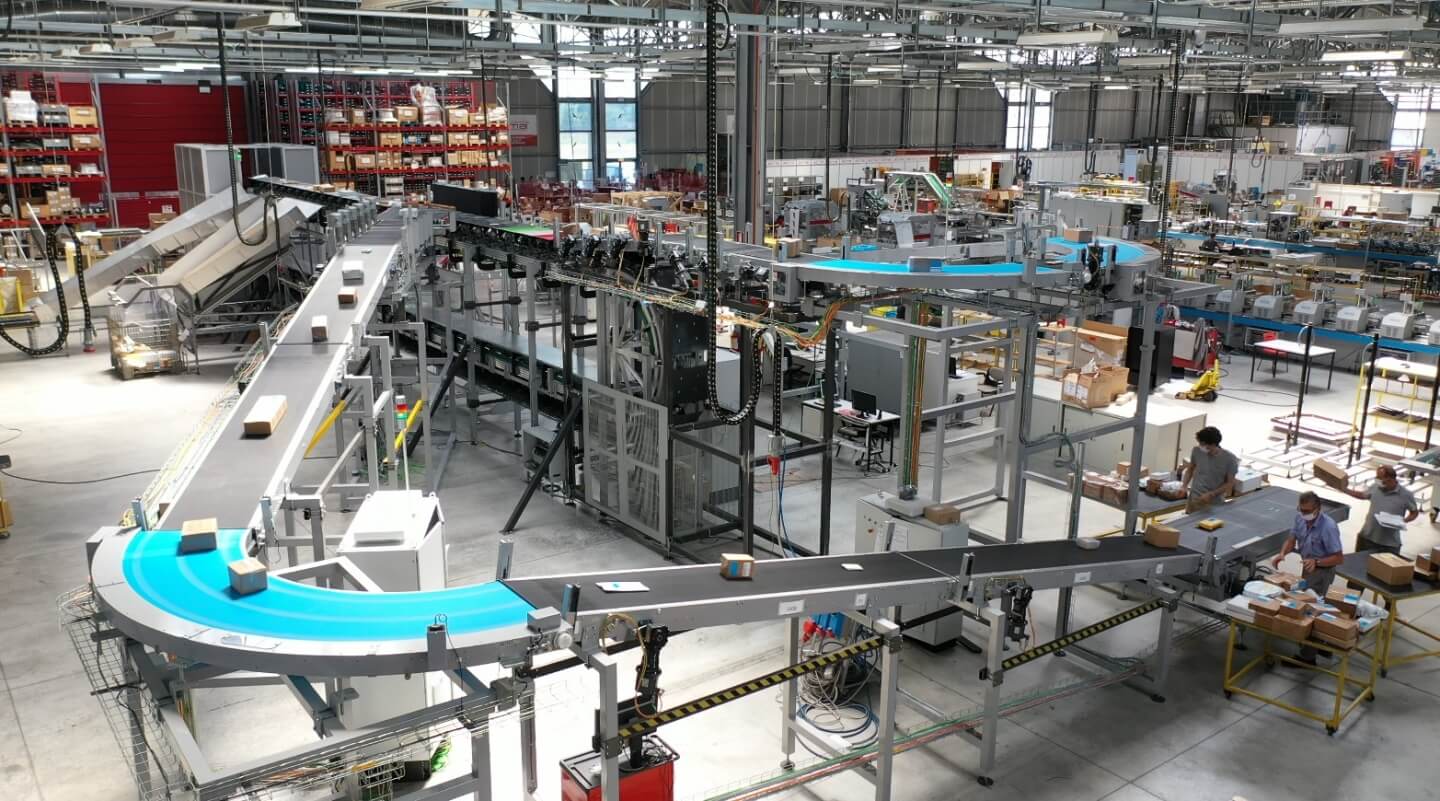 We have launched Symphony on the market, a sorting system that takes up the baton of Easy Sort and Speedy Sort; already best sellers in the logistics automation sector. Through Symphony, Sitma takes another step forward, creating a cutting-edge logistics system ideal for e-commerce logistics.
The first example of this technological evolution was created for an important operator in North America, where it is currently being installed, with testing forecasted by autumn of this year.
————

How important is technology in e-commerce logistics?
The growth of the logistics sector driven by e-commerce, is one of the most relevant phenomena in recent years. According to data provided by Prnewswire*, the sector boasts a compound annual growth rate of 23% globally and will reach $16 trillion in value by 2027.
To respond to this evolution, we have put in place the know-how accumulated in over 40 years of activity in the logistics and e-commerce packaging sector, working around the concept of modularity, so we have launched a system that is able to support particularly complex configurations, Symphony.
A perfect solution for e-logistics that can in fact be set up with straight or curved modules, suitable for supporting upward or downward movements and preserving the packs from the risk of falling and damage, even at high speeds. All of this is achieved in incredible silence.
————

What are the Symphony's features that make it suitable for the management of logistics and e-commerce packaging?
In a market like the current one, speed and safety are the rewarding factors, especially if we talk about packaging and shipping for e-commerce, here are the reasons why Symphony is the right answer:
Modular base structure: which allows the use of both a tilt tray and cross belt technology, depending on the specific needs. Symphony can also support multi-output and multi-directional configurations, helping to increase production capacity and line efficiency.
Maximum flexibility: the chutes for the unloading of the products allow to manage different outlet configurations and container positions for collecting the products.
Speed: it can manage up to 14,000 products per hour in the tilt tray configuration and up to 20,000 in the cross-belt configuration. The system also boasts an increased load capacity compared to previous solutions, being able to sort larger and heavier products. In the tilt-tray configuration it reaches up to 15 kg per tray, while in the cross-belt configuration, it can manage up to 30 kg.
Reliability: Symphony runs on polyurethane wheels, specifically designed to minimize noise providing add-on value in the work environment. The system is also gearless and equipped with standardized transport cells, which are very light and highly technological.
Control: the brushless motors are installed on-board and each cell is powered by electricity; being interconnected via Wi-Fi with the PLC, to communicate its positioning in real time. These features are not only useful for purposes of planning sorting activity, but also for the constant monitoring of the line.
Little or no maintenance: Symphony allows you to minimize maintenance activities, thanks to the use of a high number of identical parts and a general simplification of the structure.
Thanks to the study of our team, we arrived at a "Manintenance Free" solution, equipping the sorter as an alternative to mechanical traction systems, with electromagnetic traction solutions. In this case, linear motors and magnets are used, which are installed directly on the cells. In addition to the total elimination of maintenance activities, this also entails a further reduction in noise.