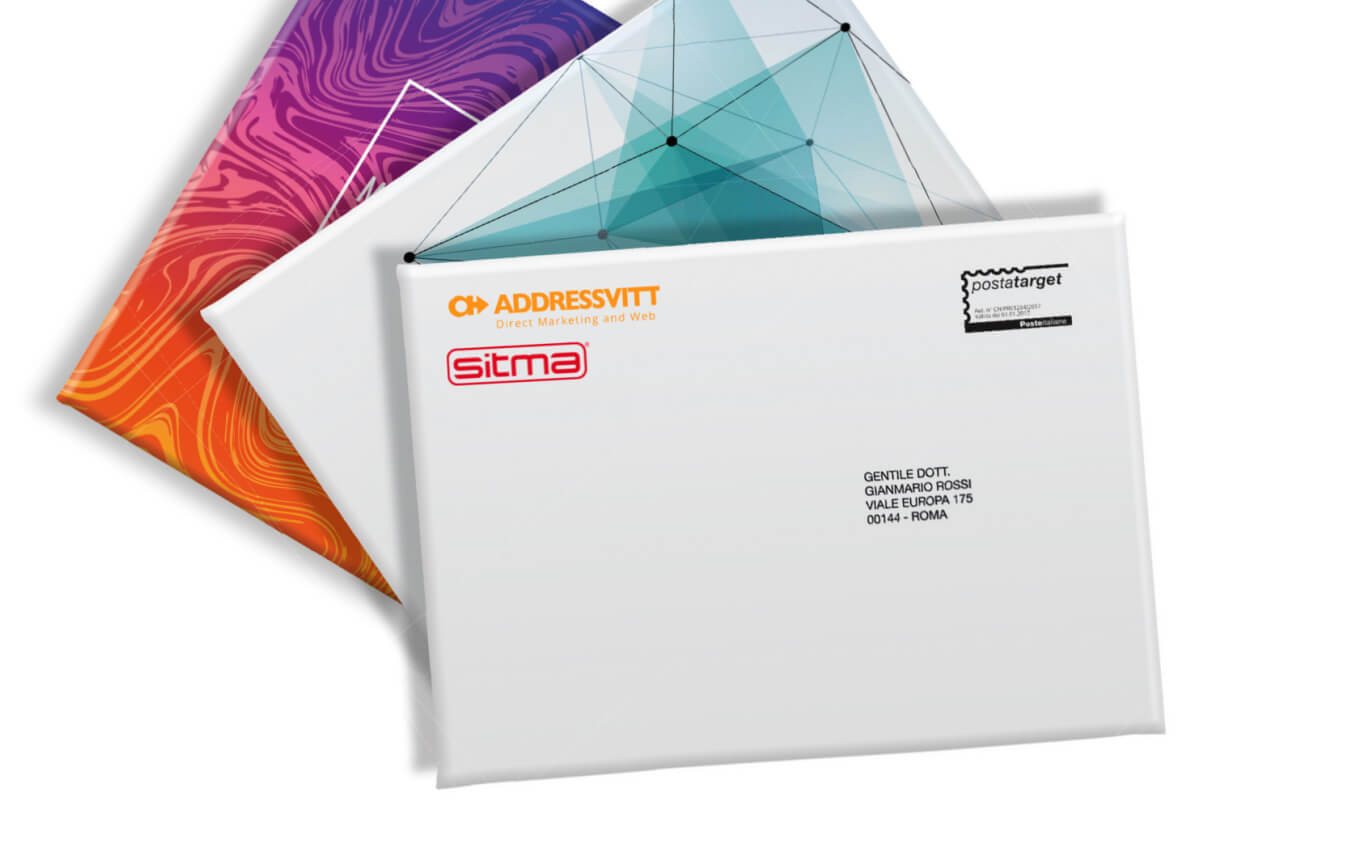 When a technology supplier meets a service supplier with the same point of view, the result is the launching of a trailblazing project based on using paper as packaging material. InCharta® is inspired by numerous European experiences and poses as the forerunner to take Italy to the same level as its neighbours, France, Germany, and the UK, which have already put paper packaging for Direct Mailing – promotional material, catalogues, brochures, newspapers, and magazines – at the forefront of their strategies to go green.
Sitma embraced environmental sustainability as the core value of its business strategy. In line with the 2030 agenda and the Sustainable Development Goals defined by the UN, the company is using its solutions to take small steps in promoting the use of paper rather than plastic as material for packaging.
Addressvitt is a long-standing agency and service leader in the Direct Marketing sector in Italy, active both in the editorial and retail world, boasting over 300 active customers in the last three-year period, including companies, editors, and authorities of paramount national and international importance. Addressvitt has decided to stand on the front line for environmental sustainability, giving its commitment a name and symbol: STAR. Based on three green principles – Sustainability, TArgeting, Recyclability.
————

The paper era: 360° benefits
The properties of this organic, renewable material are well-known: resistant, flexible, shiny, light, highly recyclable. In fact, paper can be recycled up to 7 times and sourcing from properly, responsibly managed forests contribute to maintaining the planet's ecosystem. According to the report on Collection, Recycling, and Recovery of Paper and Cardboard by Comieco1, 2019 confirmed that separate collection of paper and cardboard has become an established habit for all Italian citizens.
Paper packaging doesn't just mean envelopes. In fact, thanks to Sitma it is possible to create bespoke packaging around the product, which is wrapped directly on the line. Feed systems that support the Sitma paper wrapper make it possible to package flyers, catalogues, and magazines, combining various formats and sizes. Integrating efficient printing systems also allows for the creation of customised prints with variable data including logos, names, and addresses, in line, for a product that is ready to be shipped through the postal service. Using paper puts no limits on creativity; rather, it becomes the ideal means for 360° marketing. A means of communication, an engagement or sponsorship tool, paper packaging can protect the privacy of its contents as well as enhance its visibility.
"InCharta® is the ideal solution for light direct mailing," states Sergio Pilu, Addressvitt Marketing & Special Projects Director. "We have developed the new brand by working on the concept of being light: the material, operating processes, costs, and impact on the environment. The entire process of pairing, customising, and packaging the material to mail is done in a single step, made possible through the technology from our technological partner: increasing speed, control, and sustainability while reducing production time and costs and environmental impact."
"After numerous installations abroad, we're proud to launch this paper packaging product in Italy as well, along with an important partner for Sitma," explains Gianluca Rossi, Sitma CMO. "Our goal is to develop increasingly green solutions, create circularity, and support companies that share our philosophy and vision for the future, not only through structured business actions – such as, for example, the processes of calculating and compensating for the CO2 emissions deriving from our production plant or creating our Sitma forest with the support of Treedom – but also by offering our partners solutions that bring eco-sustainability to a higher level in the supply chain."