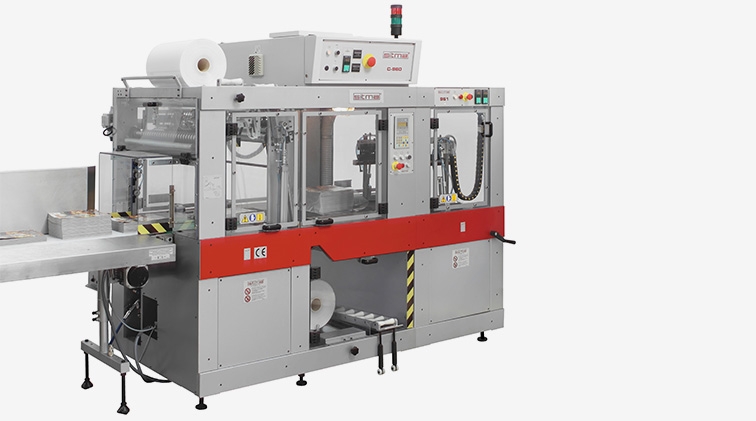 The high speed Sitma 960-961 offers you more:
Protection. It completely wraps bundles with the use of side sealers for all four sides of the bundle. Offering better protection for products that need to maintain a longer life.
Speed. Capable of reaching maximum speeds up to 50 bundles per minute.
Height.  The new continuous side sealing system can wrap bundles of up 300 mm in height. Bundles over 300 mm may be sleeve wrapped in conjunction with the side sealing station where excess film is removed to ensure a smooth tying and/or shrinking operation.
Recycling power. The 960-961 evacuates film scrap as it wraps. A vacuum system stores the excess in an "easy to recycle" collection bin allowing you to do more with your money.
Automatic speed adjustment according to the rate of the production flow
Angled cross-sealer to ensure a tight film sleeve with no film tension on the upper products of the stacks
Variable size and thickness stacking capabilities without operator intervention
Bundles and stacks remain with the use of an AC frequency inverter for smooth operation and quick speed changes
Simplified set-up through a LCD display along with diagnostics "Transport" mode for applications to be run without film
Side sealing system
High speed shrink tunnel on request
PACKING POSSIBILITIES
Min/Max length: mm 200 – 450 (8″ – 18″)
Min/Max width: mm 210 – 300 (8.26″ – 12″)
Min/Max height: mm 10 – 300 (.5″ – 12″)
Speed: up to 50 bundles per minute
DESCRIPTION:
Packaging machine for high-speed parcels.
Would you like to receive more information?
Fill out the form below, one of our
expert will get in touch with you shortly!